Offered Daily
8HR
$225
Buoy 10 Fishing Adventures
$250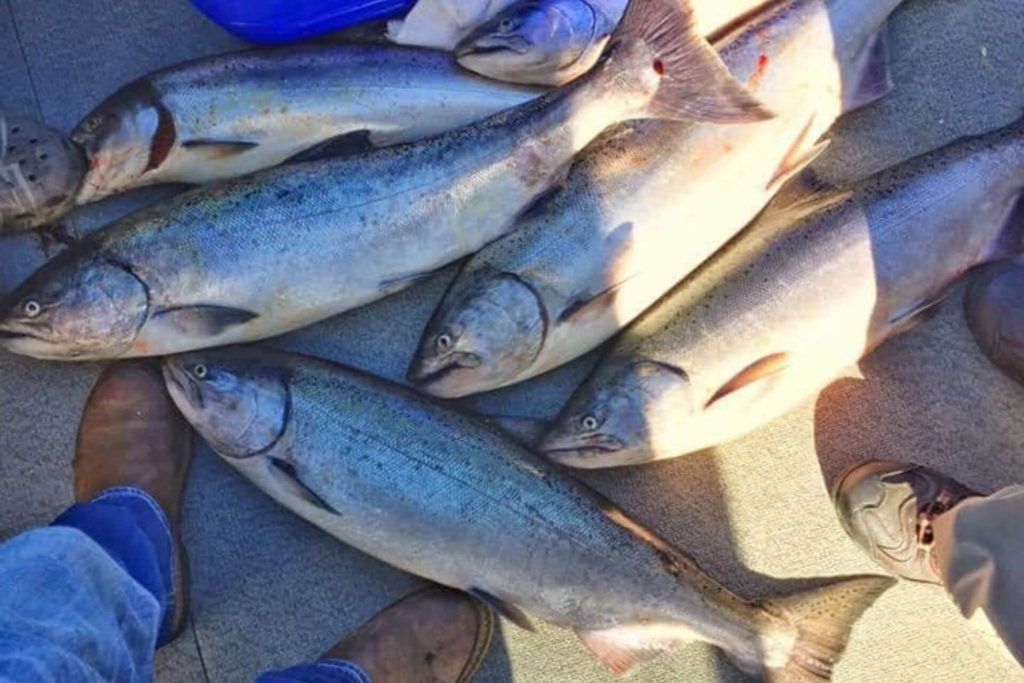 Salmon Fishing Adventures
Washington is an excellent salmon fishing destination. It is the only state in the contiguous United States where anglers can catch all five species of Pacific salmon in a single season. Historically, pink salmon, coho, chum, sockeye, steelhead, and chinook salmon are the six ocean-going species available in at least sections of Washington. However, today we only have five as the pink salmon is extinct from the Columbia River.
Washington, Oregon, along with Alaska, is the only state in the US with fishable runs of all Pacific salmon species. We'll focus on 3 of the five cohos, sockeye, chinook, plus one more steelhead during your fishing adventure.
Coho
These acrobatic fighters, sometimes called silvers, are generally caught in the summer and fall, and they can bite with almost suicidal abandon, especially while still in saltwater. Still, river fishing can be very productive in some locations on the Columbia River and its tributaries.
The majority of keeper coho are hatchery-bred fish with a clipped fin. However, wild coho is making a comeback in some rivers, thanks to protections put on by the Washington Department of Fish and Wildlife.
-All Gear Provided
-$225 Adults
-MAXIMUM 4 People
Sockeye salmon
Sockeye salmon are tiny salmon praised for their entertaining battle and delicious eating qualities. There aren't many ocean-going sockeye hotspots in Washington. By the way, Washington, Oregon, is also home to a large number of landlocked sockeye salmon, also known as kokanee.
-All Gear Provided
-$225 Adults
-MAXIMUM 4 People
Chinook
Fall kings are the Washington salmon that most commonly reach 15 to 30 pounds, with some lucky fisherman landing kings that are 40 pounds or more. Spring Chinook return to a few rivers and, despite being smaller than their fall cousins, are among the most delicious fish.
The Columbia River still has a relic of an even larger Chinook run known as the "summer" run, but these colossal fish are becoming increasingly rare.
-All Gear Provided
-$225 Adults
-MAXIMUM 4 People
Steelhead
Salmon and steelhead, two anadromous fish species, were previously abundant in the Columbia River. Before approximately 1850, when European emigration into the basin began to speed, and with it the exploitation of salmon, it is estimated that Every year, between 10 million and 16 million adult steelhead and salmon return to the river to spawn. Based on late 19th-century cannery records and Indian tales. By comparison, today's returns rarely exceed $2 million each year.
Six species of Pacific salmon have been found in the Columbia River Basin in the past. Chinook, coho, sockeye, chum, pink salmon, and steelhead are among them. Until the 1990s, the steelhead was classed with trout in the Salmo genus until being reclassified with salmon in the Oncorhynchus genus.
Columbia River steelhead is native to the Columbia River and distinguished by its delicious flavor, crimson meat from natural colors, and unusually high omega-3 fatty acid content. They're also an excellent choice for health-conscious people because of these traits.
-All Gear Provided
-$225 Adults
-MAXIMUM 4 People